http://www.chinadaily.com.cn/china/2013-11/11/content_17096292.htm
Updated: 2013-11-11 17:14
By HE WEI in Shanghai ( chinadaily.com.cn)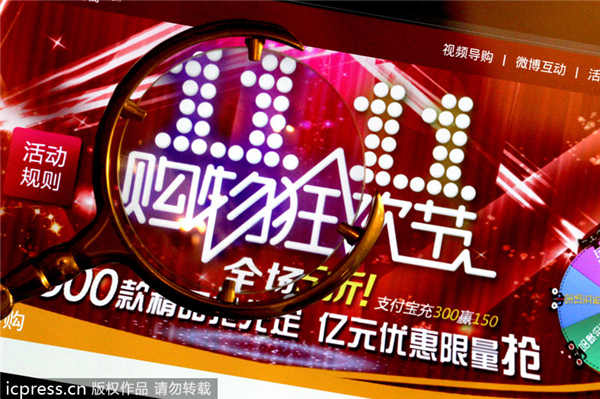 Taobao, one of China's biggest online marketplace, promotes Singles Day sales, Nov 11, 2013. [Photo/icpress.cn]
E-commerce giant Alibaba Group Holding Ltd said online transaction volume topped 30 billion yuan ($4.9 billion) after 21 hours of trading on Monday, breaking its record for Double 11 shopping spree.
The figure, shown at 9:20 pm on a series of screens at the company's Hangzhou-based headquarters, eclipsed last year's overall daily sales generated by the group's business-to-customer site Tmall and customer-to-customer marketplace Taobao.
The number quickly soared to 20 billion yuan over the next 30 minutes.
Alibaba recorded more than 1 billion yuan in transactions over Alipay in six minutes during Monday, a milestone that took an extra 31 minutes to hit last year.
The company's chairman Jack Ma has suggested that the value of transactions on Tmall and its customer-to-customer Taobao marketplace could top 30 billion yuan, up 60 percent of sales on the same day last year.
This year over 20,000 merchants teamed up with Tmall to slash prices up to 50 percent and enticed tens of millions of bargain hunters.

Expressions:

Double 11
Singles' Day
hit record high sales 销售额创新高
online marketplace 在线商城
E-commerce giant 电商巨人
online shopping 网络购物
transaction volume 交易量
value of transactions 交易值
payment platform 支付平台
eclipse 使黯然失色
overall daily sales
business-to-customer 企业对终端消费者
B2B(business to business)企业与企业间的电子商务模式
customer-to-customer 个人与个人之间的电子商务
team up with 与……协作
slash prices 降价
entice 引诱怂恿
bargain hunters 寻求打折商品的人