Updated: 2012-10-11
( Xinhua)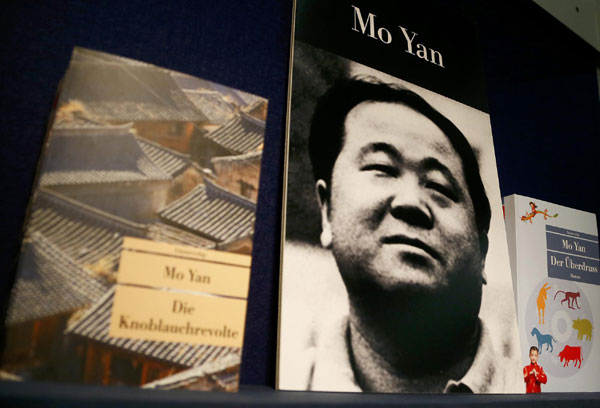 Books of Chinese writer Mo Yan are on display during the book fair in Frankfurt, October 11, 2012.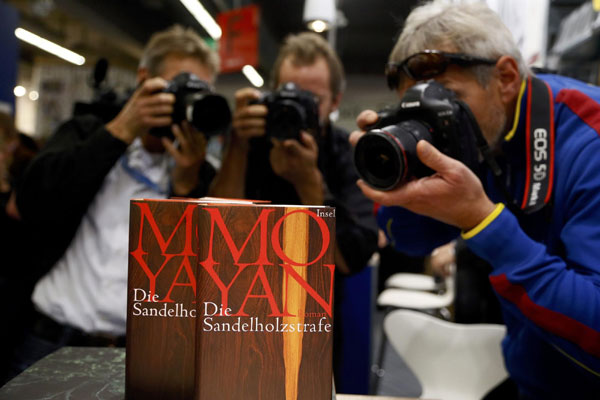 Photographers take pictures of books written by Chinese writer Mo Yan during the book fair in Frankfurt, October 11, 2012. Mo Yan won the 2012 Nobel prize for literature on October 11, 2012.
This file photo taken on Sept. 6, 2011 shows Chinese writer Mo Yan. Chinese writer Mo Yan has won the 2012 Nobel Prize in Literature, the Swedish Academy announced in Stockholm on Thursday. (Xinhua/Li Yan)
STOCKHOLM, Oct. 11 (Xinhua) -- Chinese writer Mo Yan has won the 2012 Nobel Prize in Literature, announced Peter Englund, Permanent Secretary of the Swedish Academy in Stockholm on Thursday.
The Nobel Prize in Literature 2012 is awarded to Chinese writer Mo Yan "who with hallucinatory realism merges folk tales, history and the contemporary," said Englund at a press conference.
Mo Yan, a pseudonym for Guan Moye, was born in 1955 and grew up in Gaomi in Shandong province in eastern China. His parents were farmers.
As a 12-year-old during the Cultural Revolution he left school to work, first in agriculture, later in a factory. In 1976 he joined the People's Liberation Army and during this time began to study literature and write. His first short story was published in a literary journal in 1981.
"In his writing, Mo Yan draws on his youthful experiences and on settings in the province of his birth. This is apparent in his novel Hong gaoliang jiazu (1987, in English Red Sorghum 1993)," said the academy in a statement of Mo's biography.
The book consists of five stories that unfold and interweave in Gaomi in several turbulent decades in the 20th century, with depictions of bandit culture, the Japanese occupation and the harsh conditions endured by poor farm workers, according to the biography. Red Sorghum was successfully filmed in 1987, directed by famous Chinese director Zhang Yimou.
Through a mixture of fantasy and reality, historical and social perspectives, Mo Yan has created a world reminiscent in its complexity of those in the writings of William Faulkner and Gabriel Garcia Marquez, at the same time finding a departure point in old Chinese literature and in oral tradition, the academy commented in the biographical statement.
In addition to his novels, Mo Yan has published many short stories and essays on various topics. Despite his social criticism, he is seen in his homeland as one of the foremost contemporary authors, the statement added.
Dozens of his works have been translated into English, French and Japanese and many other languages.
Last year's literature prize went to Swedish poet Tomas Transtromer.
Alfred Nobel, a Swedish industrialist who invented dynamite, established the Nobel Prizes in his will in 1895. The first awards were handed out six years later.
The awarding ceremony will be held on Dec. 10.
The winner will win a medal, a personal diploma and a cash award of 8 million Swedish Kronor (about 1 million U.S. dollars).
source:
http://news.xinhuanet.com/english/china/2012-10/11/c_131900696.htm